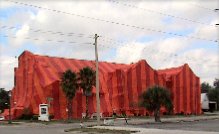 How can I get several different quotes for a fumigation without having to go through an inspection for each one?
There are two things that make it hard for a termite company to give you a price for fumigation without coming to your home to do an inspection first.
1. Under California state law a termite company cannot make a recommendation to fumigate your home without an inspection being done that shows that drywood termites (or wood boring beetles) have indeed infested your home and a recommendation to fumigate to eliminate them is made.
2. They must also know the total cubic feet of your home. The cubic feet is what their pricing is based upon. More precisely it is per 1000 cubic feet. This is commonly referred to as cubes or 'Ms', 'M' being the roman numeral for 1000. So a 25,000 cubic foot home would be 25 cubes or 25 'M'. From here on I will refer to this unit of 1000 cubic feet as 'M' or 'Ms'.
Note: The price a company will quote you will usually be based upon a price per 'M'. These per 'M' prices can vary widely between different companies. In my experience the price per 'M' is on average between $50 and $75. If you take the price they give you and divide by the size('Ms') you get their per 'M' cost which is what you are really comparing.
I am going to assume at this point that most people who are looking to compare fumigation prices have already had a wood destroying organisms inspection that recommended it. Often it is the quote they received with that first inspection that compelled them to want to compare prices. If you haven't had a wood destroying organisms inspection on your home, that is where I suggest you begin. That inspection will give you the additional information you need to get comparative estimates from other companies without going through the whole inspection process first.
(If you feel that it's unfair using the first inspector to give you the information you need to get additional estimates without an inspection you shouldn't. First, you may end up using them anyway and second, any other company you select will still have to come and do an inspection with no guarantee of a sale just like the first inspector did.)
However because of the 2 reasons stated above, getting several quotes on a fumigation can be very cumbersome and time consuming. That first inspection will give you 2 things that you can use that will enable other termite companies to give you a comparative estimate. 1) The recommendation to fumigate and 2) the size of your home in cubic feet. If they didn't give you the size of your home in cubic feet based upon their measurements, give them a call and ask for it. They know it, that's what their price is based on.
Now with these 2 pieces of information you can actually get a comparative estimate(emphasis on estimate) from several companies right over the phone. Its a matter of what to ask for and how to ask for it.
When you call other companies to get a comparative estimate, put their minds at ease by letting them know you already have a recommendation to fumigate from a licensed inspector. Tell them you just want to know what they would charge for fumigating a home the size of yours (in cubic feet based upon the measurements from your original inspection). Make it clear that you understand that any price they give you over the phone is just a rough estimate, and is not an offer to fumigate your home and that you know they would need to come out and do their own inspection and take their own measurements before they can offer you a fumigation at any price.
Call as many companies as you like. They can give you a rough estimate based upon the information you have and I believe most of them will. Those that won't, well I have no comment on that. Use these rough estimates to narrow your search to a couple potential companies that fit your cost expectations. Then schedule them to do an inspection and give you a real quote. Then decide who your going to use or keep looking if your still not happy.
Remember also that these companies could not negotiate on the price of your estimate over the phone, since it was not a real offer. However once they have inspected your home and given you a real offer they may be willing to negotiate that price a little more if you ask.
Instructions for measuring the cubic feet of a home.